This post will hopefully kill two birds with one stone: I want to get down some thoughts that have been percolating so I can go back and check them out before next school year and I thought that they might be of interest to some of y'all, so here goes nothing.
Lately I've been thinking about something called Standards-Based Grading (SBG). The idea is that rather than evaluating students' performance on a given set of assessments, you give them opportunities to demonstrate what they know. They're scored on whether or not they master certain skills, and they can try multiple times to master each skill. Lots of people have been discussing SBG lately, I would recommend reading through the links below if you're interested
(I also borrowed most of the images from links these people provided).
http://tinyurl.com/88g3tqo
Think Thank Thunk
Action-Reaction
dy/dan
MeTA musings
Physics! Blog!
Student Perspective
I really like the idea of SBG, but I don't think that integrating it into a Regents course is as easy as snapping your fingers. I think it has to be done carefully and intentionally (and possibly with student input). I envision a grading breakdown that is a combination of traditional scoring and SBG. It might look something like this: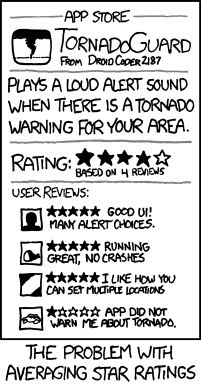 http://xkcd.com/937/
Current:
| | |
| --- | --- |
| Class Participation | 20% |
| Homework | 25% |
| Labs | 25% |
| Quizzes | 5% |
| Tests | 25% |
New:
| | |
| --- | --- |
| Class Participation | 20% |
| Labs | 25% |
| Assessments | 10% |
| Performance | 45% |
By assessments I mean timed problem-solving sessions. I don't like teaching to the test, but I feel that there is a necessity for students to be able to perform under pressure (to a degree) and since the majority are going to be sitting for the
NYS Regents Exam in Physics
in June, I feel that this element is necessary. It shouldn't be the over-riding factor in their grade, but I think it should play a role. What do you think? Bueller?
I've considered doing away with the separate lab grade... maybe someday. If I were given blocked-ish periods with the same students in class and then lab (or vice-versa) then I could do this more easily. In fact, I would lean toward eliminating the lab report requirement of my class because I would finally have enough time for students to put together meaningful representations of what they're learned. Maybe this last bit is just a fib and I should can it right now... I'll have to think about that. I'm interested to see how Shawn Cornally's collaboration experiment goes:
http://shawncornally.com/wordpress/
Emma back when she was a puppy
An idea I had on my morning walk with dog Emma was to let the students determine the breakdown on the first day of class. There would be stipulations: the lab percentage is set in stone, and all of the others have to make an appearance with at least 10%. All of the different sections would have to agree on a common breakdown as well- no willy-nilly bickering about how section placement determined their grade in the course. Maybe this isn't a good tone to set for the year and shows that I'm not in control. Or maybe it's genius in disguise because it shows that by relinquishing control initially, I get students to buy into the system because they made the decisions, thereby gaining more control in the end. And then I will
conquer the world
! J/K... or am I?
http://tinyurl.com/7t6nnfb
Stay tuned for updates, and if you have an opinion about any of this stuff, leave a comment below!