As I sat down to write, I realized that what I had to say didn't constitute a full entry. Accordingly, this post is a compilation of my thoughts over the past 2 weeks.
T-1,209,600 seconds
Courtesy of Historic Saranac Lake
I also started my snowboarding season today with some spring conditions at Mt. Pisgah. Unfortunately, given the recent weather it looks like it might also be the end of my season! Here's to good company, fun times, and, courtesy of the M. family, an incredible wipeout! If only I caught it on tape...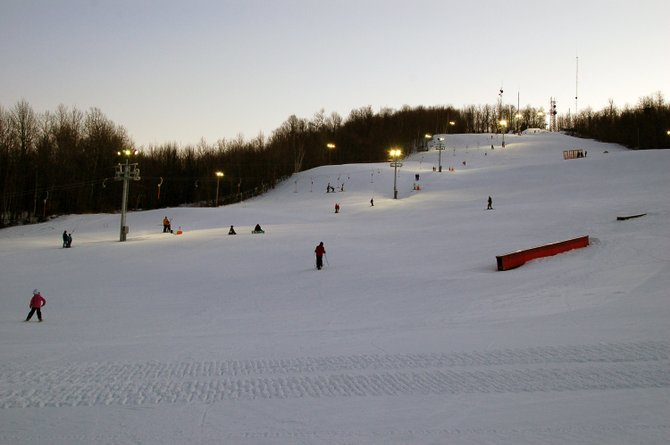 The 'gah, courtesy of Andy Flynn and Denton publications
Note: in this picture there is much, much, more snow than there was during our excursion.
I'm starting to get ready- I haven't actually begun packing my bags, but I started making a list.! Still plugging away on other preparations- not too much exciting news on that front.
T-604,800 seconds
Making progress on the research project front. I've been in contact with the
Modeling folks at ASU
and they're helping me arrange to administer a conceptual exam electronically. My mentor, Dr. Julio Benegas, helped get the Spanish versions to
WebAssign
, a company based here in the US so that they can be incorporated into their library. This is good news because it means that Physics Education Research (PER) folks working with students in Spanish will have the ability to administer the exams, and in turn examine their own conceptual gains. It's undoubtedly a huge boost to my project, but it's also a good step for the PER community in general.
This afternoon I started working on using tables in Beamer- good times. I've also been reading some interesting articles for my project. No bombshells yet, but definitely some things to think about. For example, a large survey of university students of different genders found statistically different experiences in high school physics. Does this mean that they actually had different experiences? No, the authors believe that they just interacted with the teacher differently, learned using a variety of mechanisms, and used different techniques to study. Thing is something to remember when I ask students about their experiences in class- perspective has an influence on how we experience events.
I did some intervals up the neighborhood hill on my bike today. Not terribly exciting, but it's good for a quick workout.
T-260,000 seconds
This morning I sent a link to this blog out to some friends and family. It's amazing the responses I've gotten- great to hear from everyone! And it's also worth noting that the traffic is encouraging as well- it's kind of a lonely feeling when the only visits your site gets is from sites like buygenericsfromindia, instant-online-refills, and instanttrafficrobot2.
Still working on my presentations. I spent a while the other day figuring out tables in Beamer, and I'm psyched that I finally understand it. By the way, if anyone needs a little bit of help working in a foreign language, I highly recommend
word reference
. Google translate is ok, but doesn't really make you think. It's also not perfect. Not that I claim to be, but thinking about the translation and context improve my own understanding as I go. This is a great side-effect of getting the job done!
T-143,000 seconds
I'm nearly packed- just trying to figure out the best way to stay under the weight limits for baggage. Books are incredibly heavy- I had hoped to bring more, but it's not in the cards.
I also wanted to take a moment to say thanks to all our friends and family that have been helping us out and are making this trip work- we couldn't do it without y'all and are extraordinarily lucky.
I said goodbye to Lynn and Grant tonight when they left for a short vacation in warmer climes. Heart-wrenching doesn't quite do it justice. I can't wait for them to be able to join me in San Luis- I wish Emma could come too!
p.s. If you're wondering about why I used seconds to measure the time remaining before I leave, it's because a friend of mine believes that everyone ought to know how many seconds are in a day (~85,00) and in a week (~600,000). Just trying to help make you a more well-rounded person.